Three weeks ago, Jussie Smollett was reported to be the victim of an alleged racist, homophobic attack. Now, after questioning two men originally thought to be suspects, police say new information has "shifted the trajectory of the investigation."
News of the reported assault went viral and was met with mixed reactions online, with many suggesting the incident is a hoax, something the actor has denied. On Saturday, CNN quoted law enforcement sources as saying the Empire actor paid two men to orchestrate an assault on him. Smollett's attorneys have said that the actor feels "victimized" by claims that he "played a role in his own attack."
Police are now seeking to speak again with the actor and have reached out to his legal team. His lawyers said in a statement on Monday that the actor does not plan to meet with authorities that day but that they will "keep an active dialogue" with police on his behalf.
January 22 – The Letter: Chicago police confirm that a threatening letter addressed to Smollett, containing a white powder, was sent to Cinespace Studios, the Chicago set of Empire. A HAZMAT unit is sent and the powder is determined to be crushed up aspirin, according to CNN.January 29 – The Alleged Assault: Smollett, who is black and gay, reports to police that he was assaulted in Chicago by two men who hurled racial and homophobic slurs at him. Authorities begin investigating the incident as a possible hate crime.

According to NBC News, Smollett told police that he had just landed in town from New York and was attacked as he stepped out to get a bite to eat at a Subway restaurant around 2 a.m. on East North Lower Water Street, in the upscale neighborhood of Streeterville.

Two "unknown offenders approached him and gained his attention by yelling out racial and homophobic slurs towards him," the Chicago Police Department says in a statement. "The offenders began to batter the victim with their hands about the face and poured an unknown chemical substance on the victim."

A source familiar with the investigation tells NBC News that the chemical is believed to be bleach.

Police say Smollett told them the attackers were men wearing dark clothing and ski masks.

"At some point during the incident, one of the offenders wrapped a rope around the victim's neck," the police statement says. "The offenders fled the scene."

TMZ reports that as the men left the scene, they yelled, "This is MAGA country," a reference to President Donald Trump's "Make America Great Again" 2016 campaign slogan. Chicago police later say in a statement to to E! News, "In the initial reports there was no mention of MAGA. When detectives followed up with [Smollett] later in the day, he recalled the offenders making those comments and detectives completed a supplemental report."

Smollett's manager, Brandon Moore, would go on to tell Variety that he the actor were speaking on the phone when the incident took place, adding, "I heard the scuffle and I heard the racial slur," he said. Moore tells the outlet that he gave his account to police.

Meanwhile, Smollett finds his own way to Northwestern Memorial Hospital for treatment and is said to be in good condition.

A police spokesperson says the actor "is fully cooperating" with their investigation.

Celebs Rally Behind Smollett: …and call for #JusticeforJesse.

"You didn't deserve to have a noose put around your neck, to have bleach thrown on you, to be called 'die f––––t, n––––r,' or whatever they said to you," Empire creator Lee Daniels writes on Instagram. You are better than that. We are better than that. America is better than that. We have to love each other regardless of what sexual orientation we are, because it shows that we are united."

TMZ reports that Daniels briefly posted, then deleted, a screen grab from a FaceTime session he had with Smollett while he was in the hospital.

January 30 – Two "Persons of Interest"? Chicago police spokesperson Anthony Guglielmi tweets, "#ChicagoPolice detectives located a surveillance camera that shows potential persons of interest wanted for questioning in reference to the assault & battery of Empire actor."

Images of two figures walking on a sidewalk are then released by the department.
Meanwhile, Smollett's co-stars Terence Howard and Taraji P. Henson also voice their support for him publicly.January 31 – Donald Trump Voices Support Too: "That, I can tell you, is horrible," the U.S. President, who Smollett has occasionally criticized online, tells reporters. "I've seen it, last night. I think that's horrible. It doesn't get worse as far as I'm concerned."

Police Release More Details: The Chicago police spokesperson says that authorities were called 30 to 40 minutes after the incident, according to CNN. The spokesperson says that because of the financial relationship between the two men, they are trying to verify the call was made and have requested phone records or the physical phones used for the call.

Smollett's Family Breaks Silence: The actor's siblings voice their support for their brother, saying in a statement, "We want to be clear, this was a racial and homophobic hate crime. Jussie has told the police everything from the very beginning. His story has never changed, and we are hopeful they will find these men and bring them to justice."
February 1 – Smollett Breaks His Silence: "Let me start by saying that I'm OK," the actor says in his first statement about the incident. "My body is strong but my soul is stronger. More importantly I want to say thank you. The outpouring of love and support from my village has meant more than I will ever be able to truly put into words.""I am working with authorities and have been 100 percent factual and consistent on every level," Smollett adds. "Despite my frustrations and deep concern with certain inaccuracies and misrepresentations that have been spread, I still believe that justice will be served."

More Public Support for Smollett: Members of the LGBTQ and black communities and their supporters gather at a New York City rally to express their solidarity with Smollett.

February 2 – Smollett Makes Onstage Appearance: An emotional and defiant Smollett returns to the stage for a pre-scheduled concert at the Troubadour Club in West Hollywood, marking his first public appearance since the reported assault. He tells the audience he is "OK" and had fought back against his attackers, and also jokes that he is the "gay Tupac."

February 11 – Smollett Provides Police Phone Records: Police tell NBC Chicago that Smollett gave them a PDF file of redacted phone calls but did not provide "a download of the phone or a digital record." The department spokesperson says, "We are very appreciative of the victim's cooperation however the records provided do not meet the burden for a criminal investigation as they were limited and heavily redacted. Detectives may be following up with him to request additional data to corroborate the investigative timeline."

Smollett's rep tells the outlet that information in the phone records given to police was redacted "to protect the privacy of personal contacts or high-profile individuals not relevant to the attack," adding, "Jussie has voluntarily provided his phone records from within an hour of the attack and given multiple statements to police. Chicago PD has repeatedly informed us that they find Jussie's account of what happened that night consistent and credible."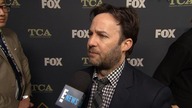 Empire Boss Reveals Changes After Jussie Smollett's Attack
February 13 – Two Men Detained: Police arrest two brothers, Olabinjo and Abimbola Osundairo, who arrive on a return flight from Nigeria. They are questioned as potential suspects in the case.February 14 – Persons of Interest Identified: Chicago police announce via Twitter that through a "meticulous investigation," "detectives have identified the persons of interest in the area of the alleged attack of the Empire cast member. These individuals are not yet suspects but were in area of concern and are being questioned. Investigation continues."

First TV Interview: Smollett makes his first onscreen appearance since the reported attack, giving an interview to Robin Roberts on Good Morning America.
He recalls the incident and its aftermath, saying one of his attackers told him, "This MAGA country, n—-r' and he punched me in the face, so I punched his ass back, then we started tussling. It was very icy and we ended up tussling by the stairs."Smollett says that after the men fled, he noticed he had a rope around his neck, and he started screaming.

"I smelled bleach, I know the smell of bleach, and I saw on my sweatshirt, it had marks on it, like spots on it when you have a bad bleach job," he continues. "I was like, there's bleach on me too. So when the police came, I kept the clothes on, I kept the rope..it wasn't like wrapped around, but yeah it was around because I wanted them to see, I wanted them to see what this was."

When asked why he hesitated to call the police after the attack, Smollett tears up, saying, "There's a level of pride there. We live in a society where, as a gay man, you are considered somehow, to be weak, and I'm not weak. I am not weak. And we, as a people, are not weak."

When asked if he believes the two people in the released surveillance image could be his attackers, Smollett says, "I do…'cause I was there. For me when that was released, I was like OK, we are getting somewhere. I don't have any doubt in my mind that that's them. I never did."

Smollett also says police wanted him to give his phone to their tech for three to four hours.

"I'm sorry but…I'm not gonna do that," he says. "Because I have private pictures and videos and numbers—my partner's number, my family's number, my cast mate's number, my friends' numbers, my private emails, my private songs, my private voice memos."

Smollett also adds he was "pissed off" at the criticism voiced by his skeptics.

"It's the attackers, but it's also the attacks," he says. "You know, at first it was a thing of, if I tell the truth, that's it, because it's the truth. Then it became a thing of like, oh, how can you doubt that? How do you not believe that? It's the truth. And then it became a thing of, oh, it's not necessarily that you don't believe that this is the truth, you don't even want to see the truth."

Police Cannot Confirm Incident Was a Hoax: ABC7 Chicago quotes multiple sources as saying that police are investigating whether Smollett and two "persons of interest" had staged his attack because he was being written off Empire. Fox says in a statement, "The idea that Jussie Smollett has been, or would be, written off of Empire is patently ridiculous. He remains a core player on this very successful series and we continue to stand behind him."

Chicago police say via a statement on Twitter, "Media reports about the Empire incident being a hoax are unconfirmed by case detectives. Supt Eddie Johnson has contacted @ABC7Chicagoto state on the record that we have no evidence to support their reporting and their supposed CPD sources are uninformed and inaccurate."

The Chicago police spokesperson tells E! News, "Interrogations will resume today with the two individuals and their attorney. While we haven't found any video documenting the alleged attack, there is also no evidence to say that this is a hoax. The alleged victim is being cooperative at this time and continues to be treated as a victim, not a suspect."
February 15 – Two Men Released: The Nigerian brothers are released without charges."Due to new evidence as a result of today's interrogations, the individuals questioned by police in the Empire case have now been released without charging and detectives have additional investigative work to complete," the Chicago police spokesperson tweets.

One of the men has appeared on Empire, the Chicago police spokesperson told CNN, while a police source told the outlet that both men had a previous affiliation with Smollett, without elaborating.

The men's lawyer tells CBS Chicago the two were "really baffled why they are people of interest," adding, "They really don't understand how they even got information that linked them to this horrific crime. But they're not guilty of it. They know that the evidence is going to prove them innocent. They send their best to Jussie."
February 16 – Former Potential Suspects Are Cooperating With Police: The two brothers who were interrogated by police and then released have agreed to fully cooperate with authorities, a police source familiar with the investigation tells NBC News, adding that the men were found to have purchased the rope found around Smollett's neck at a hardware store.ABC News also quotes sources as saying that the brothers purchased the rope and adds that they agreed to cooperate with authorities after detectives confronted them with evidence that they bought the item at a local hardware store. CNN also quotes a source as saying there are records that show the two brothers purchased the rope found around Smollett's neck at a hardware store in Chicago.

So Did Smollett Make the Whole Thing Up? The police source tells NBC News the probe has shifted into whether the actor paid two men who were questioned in the case to stage an assault. On Sunday, ABC News quotes sources as saying that the brothers told authorities that Smollett allegedly paid them to help him orchestrate and stage the crime.

The outlets quoted a law enforcement official briefed on the investigation as saying that  detectives are trying to corroborate the account of Olabinjo and Abimbola Osundairo but that police have not yet independently verified the allegations.

Smollett's Lawyers Issue a Statement: "As a victim of a hate crime who has cooperated with the police investigation, Jussie Smollett is angered and devastated by recent reports that the perpetrators are individuals he is familiar with," the actor's attorneys say in a statement on Saturday. "He has now been further victimized by claims attributed to these alleged perpetrators that Jussie played a role in his own attack. Nothing is further from the truth and anyone claiming otherwise is lying."

"One of these purported suspects was Jussie's personal trainer who he hired to ready him physically for a music video," the statement says. "It is impossible to believe that this person could have played a role in the crime against Jussie or would falsely claim Jussie's complicity. Jussie and his attorneys anticipate being further updated by the Chicago Police Department on the status of the investigation and will continue to cooperate."

Police Want to Talk to Smollett Again: "We can confirm that the information received from the individuals questioned by police earlier in the Empire case has in fact shifted the trajectory of the investigation," the Chicago police spokesperson says in a statement on Saturday. "We've reached out to the Empire cast member's attorney to request a follow-up interview."

He adds in a tweet, "While we are not in a position to confirm, deny or comment on the validity of what's been unofficially released, there are some developments in this investigation and detectives have some follow-ups to complete which include speaking to the individual who reported the incident."

February 18 – Smollett Not Meeting With Police Yet: "There are no plans for Jussie Smollett to meet with Chicago police today," his attorneys say in a statement to E! News. "Any news reports suggesting otherwise are inaccurate. Smollett's attorneys will keep an active dialogue going with Chicago police on his behalf."

New Details About That Letter Emerge: CBS Chicago quotes multiple sources with direct knowledge of the investigation as saying that Smollett was allegedly upset after the racist letter sent to Empire's studio didn't get a "bigger reaction," and is suspected of paying two men to attack him a week later.

The Osundairo Brothers Issue Statement: "We are not racist," they say in a statement to CBS Chicago. "We are not homophobic, and we are not anti-Trump. We were born and raised in Chicago and are American citizens."

(Originally published on Sunday, February 17 at 7:59 p.m.)